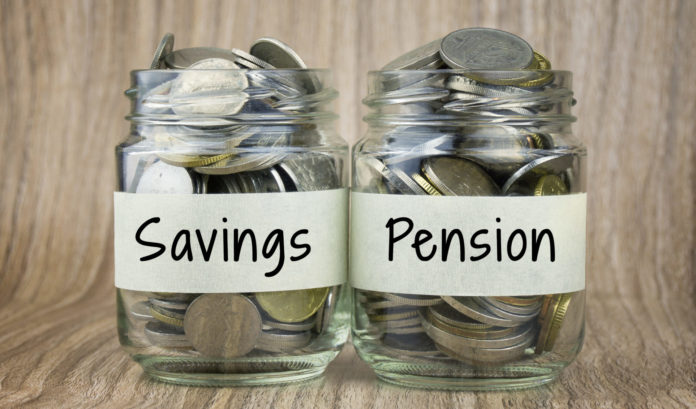 Nest Insight has today, Monday 12 November, officially launched its sidecar savings trial and announced which organisations are taking part in the research.
The project will explore whether the sidecar savings model can improve workers' financial resilience today and in retirement by creating an optimal level of savings. According to research by the Money Advice Service (MAS), many UK workers are currently in a vulnerable position. Only 44 per cent of the UK working population have £500 or more in liquid savings to hand for emergencies, and 26 per cent have nothing.1
How the sidecar savings model works
In a sidecar structure, contributions over and above the auto enrolment minimum would be managed through a mechanism designed to create an optimal level of liquid savings, while also maximising long-term savings. This would be administered as follows:
Contributions paid into the combined account structure would at first be distributed between the emergency savings account and the pension pot.

When the balance in the emergency account reaches a predetermined threshold level, known as the 'savings cap', all contributions would start 'rolling' into the pension pot.

If at any point the saver withdraws funds from the emergency account, and so reduces the balance to a level below the savings cap, future contributions would once again start being divided between the emergency account and the pension pot.
The trial is due to go live within workplaces over the coming months, with workers beginning to make contributions at the start of 2019. Timpson will be the first employer to roll the trial out within their organisation of over 5,600 workers.
Workers participating in the trial will be monitored for two years to assess sign-up rates, how much they save, and the impact on their financial wellbeing.
The JPMorgan Chase Foundation and the Money Advice Service (MAS) will be providing support for the trial. MAS will also be working with Nest Insight directly on the research, along with Professor Brigitte Madrian and the Harvard Kennedy School. The sidecar account will be provided by Salary Finance, working alongside a Nest pension pot.
Hang Ho, head of the JPMorgan Chase Foundation for EMEA and LatAm, said: "Reducing the impact of unexpected expenses on low income households through the development of innovative solutions designed around people's lives is vital. Our new partnership with Nest Insight will facilitate testing of a unique emergency savings product provided through the workplace to help low income workers build resilience. We believe this has the potential to improve hundreds of lives."
Michael Royce, strategic lead on budgeting and saving at the Money Advice Service, said: "Many millions of adults who are 'financially squeezed' or 'financially struggling' lack a savings buffer to help them cope if they were to face an unexpected bill. All too often, these costs can lead to financial difficulty. This is why the Money Advice Service is delighted to be partnering with Nest Insight to test the innovative concept of sidecar savings. We hope that it builds on emerging evidence that workplace savings initiatives can be an effective means of helping people enhance their financial resilience throughout their working lives both for the short-to-medium term and for when they move into retirement."
Asesh Sarkar, CEO and co-founder at Salary Finance, said: "Our latest research report, The Employer's Guide to Financial Wellbeing, found that 18.6 million working people in the UK (53%) lack financial resilience and 13.5 million regularly run out of money. Our mission at Salary Finance is to help millions of employees around the world become financially healthier and happier. We are delighted to use our award winning salary save product to enable the Nest Insight sidecar savings research trial. The product has the potential to address a significant problem in society – the lack of emergency savings employees have – and we are excited to see the impact it has, working with progressive and caring employers like Timpson."
James Timpson, chief executive at Timpson, said: "Our colleagues are the heart and soul of our company, and when they're happy they provide the very best service to our customers. Financial wellbeing is an important part of this. We know that money worries can have a really negative impact on colleagues' health, happiness, and productivity at work. We're delighted to be taking part in Nest Insight's sidecar savings trial to help our employees become more financially resilient, both today and into their retirement."
1 UK Financial Capability Strategy for working-age people, Money Advice Service (2016)
~ ENDS ~
Notes to editors
Consumer feedback
Working with Nest Insight and MAS, research agency Revealing Reality asked consumers what they thought about the sidecar savings idea. Feedback included:
"…it would mean that I don't have to go to my Mum and Dad and ask for money, I'd just have it there – it would reduce the stress! (Under-30, Manchester).
"I would feel more relaxed, it's easier than a credit card, almost like a small payday loan you are saving up yourself. Easier, cheaper and less of a commitment" (Under-30, Belfast).
"Having money taken straight out of your wages, you never see it going – that's a benefit" (Variable age group, Cardiff).
"My struggle is having the discipline to put it aside so it would be good for me. Good for people that struggle to put money aside each month" (30-49, London).
"By saying it's to stop people going to payday loans – you should say that at the beginning, it's to stop the sharks from getting anything" (50+, Cardiff).
Further information
About Nest Insight
Nest Insight is a collaborative research unit set up by Nest Corporation to help understand and address the challenges facing Nest members and the new generation of defined contribution (DC) savers. For more information, visit nestinsight.org.uk or email insight@nestcorporation.org.uk
About the Money Advice Service (MAS)
The Money Advice Service (MAS) is a UK-wide, independent service set up by Government whose statutory roles are to enhance people's understanding and knowledge of financial matters; improve individuals' ability to manage their own financial affairs; and to work with partners to improve the availability, quality and consistency of debt advice. Its free and impartial money guidance is available online, and by phone or webchat. MAS has led work with financial services firms, the third sector, government and regulators to develop the Financial Capability Strategy for the UK. The Financial Guidance and Claims Act 2018 makes provision for establishing a new Single Financial Guidance Body. It will bring together the Money Advice Service, Pension Wise and the Pensions Advisory Service with statutory functions to:
Provide free and impartial information and guidance to enhance people's understanding and knowledge of financial matters and their ability to manage their own financial affairs to the public

Provide free and impartial debt advice in England

Develop and co-ordinate a national strategy to improve:
– the financial capability of members of the public
– the ability of members of the public to manage debt, and
– the provision of financial education to children and young people.
About Salary Finance
Co-founded by the former Head of Google UK & Ireland, a former banking consultant and a social impact entrepreneur, Salary Finance brings together expertise in financial technology with a desire to do good. The award-winning, fast-growing company is on a mission to improve the lives of working people in the UK and US. Their mission is to change the lives of working people by helping them become debt-free and save towards their financial goals.
Salary Finance is part of Blenheim Chalcot, a leading venture builder, with a 20-year track record of creating digital businesses that transform industry sectors. They've also received investment from Legal & General, one of the world's leading financial services companies, who help over 10 million people worldwide with savings, investments and insurance.
About Timpson
Timpson is the UK's leading retail service provider employing over 5,600 colleagues, with 2,000 owned stores ad 119 "Snappy Snaps" franchises throughout the UK and Ireland. Timpson has been established since 1865 and is family owned and run by John Timpson as Chairman and James Timpson as Chief Executive.
The Nest Insight programme is made possible with the support of its strategic partner, Vanguard.
About Vanguard
Vanguard Asset Management, Limited is authorised and regulated in the UK by the Financial Conduct Authority. It is a wholly owned subsidiary of The Vanguard Group Inc., a leading provider of high-value investment services, whose mission is to help clients achieve their goals by being one of the world's highest value providers of investment products and services. Since establishing the first indexed mutual fund in the U.S. in 1976, The Vanguard Group Inc., has grown into one of the world's largest and most respected investment management companies. Globally, Vanguard manages $4.4 trillion on behalf of investors worldwide. (Source: Vanguard, as at May 31st 2017). For more information visit: vanguard.co.uk