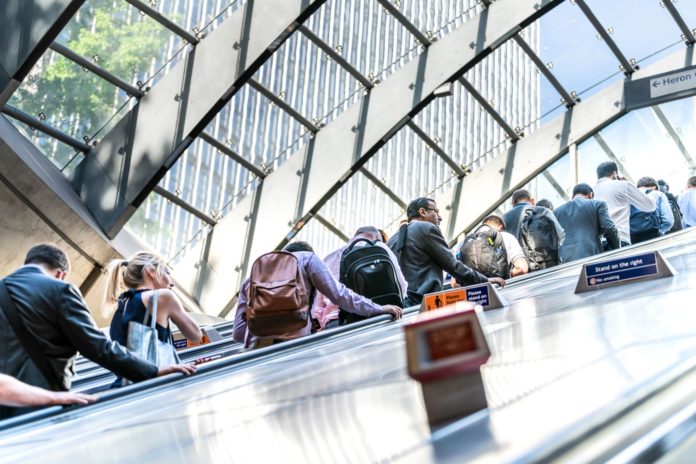 New analysis examining the behaviours of Nest's 9 million members, following the second phased increase in minimum auto enrolment contributions, reveals the effectiveness of the policy's design.

Opt-out rates remained far below the levels forecast prior to the start of the policy, rising in the months following April 2019 from 6% to 9%.

There was a negligible effect on member cessations in the same period.

The likelihood that an individual will cease contributing decreases the longer they've been a member of the scheme, suggesting that retirement saving is becoming the norm.
Today (Monday 8 June 2020) Nest Insight and Vanguard have published, How the UK saves: The effects of the second savings increase (PDF). The supplement report, which is part of the annual How the UK Saves series, shares in-depth analysis into how Nest's 9 million members behaved following the final increase in minimum contributions which took place in April 2019.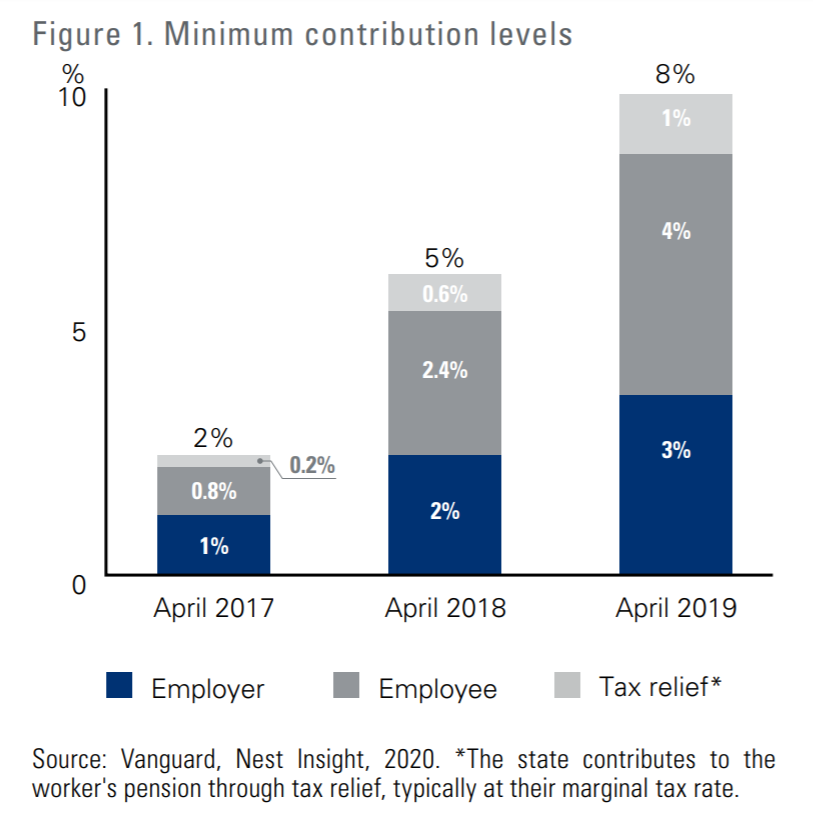 The escalation process, known as phasing, was designed to smooth the experience of workers and employers. It began in April 2018, when the minimum total contribution level rose from 2% to 5%, and finally to 8% in April 2019 (see fig.1). Analysis shows that both increases had a minimal impact on Nest members, with overall scheme participation remaining high at over 90%.
The length of time that an individual has been saving with Nest has by far the most significant impact on cessation rates. Members with a scheme tenure of less than nine months were more likely to cease contributions in response to the change. For some of these individuals, the relatively rapid increase from contributing no earnings to Nest, to contributing 5% of earnings, may have been too much of a savings shock.
Conversely, cessation gets less likely as scheme tenure increases, suggesting a normalisation of retirement savings behaviour. Through either inertia or inattentiveness, longer-tenured members appeared ambivalent to the higher overall savings rate. This finding suggests that phasing, which is loosely modelled after Save More Tomorrow, is an effective strategy. The model shows that employees are more likely to sign up for contributions if the default rate is low and they are willing to pre-commit to future increases. Clearly, this is true among Nest members as their tenure increases.
Cynthia Pagliaro, Senior Research Analyst at Vanguard, comments:
"Over both phasing periods the reaction from Nest savers was minimal in the broadest sense, suggesting that stepping up default contribution rates annually from lower to higher rates was a very effective strategy.
"Both opt-out and ongoing cessation rates are impressively low. By way of comparison, in the United States, the state-based retirement savings plan in Oregon has an opt-out rate of 28%, comparable to the original estimate for the UK's auto enrolment policy. While the impact of phasing may have been cushioned by annual tax and wage changes for some, we observe consistency of contributions among longer-tenured Nest members suggesting an ambivalence to the increase and a normalisation of retirement savings among UK workers."  
Matthew Blakstad, Analysis Director at Nest Insight, comments:
"Auto enrolment has revolutionised the UK pension system, helping over 10 million people to start saving for retirement. Once again, our in-depth analysis of member behaviour following the increase reveals that opt-out and cessation rates have remained very low. This is a real testament to the policy's design, which has gradually eased people into the 'savings habit'.
"At Nest Insight, we're committed to sharing our findings, to inform and support others around the globe who are working to improve outcomes for defined contribution savers. The success of auto enrolment in the UK, and the evidence shared through our How the UK Saves series, is a valuable case study on how to help millions start saving for retirement.
"At present, workers around the globe are understandably focused on the here and now, and the challenges created by COVID-19. Nest Insight is working to address both short and long term savings needs. The 'set and forget' mechanism that's proved so effective in pensions auto enrolment may be as effective in helping with other, more immediate, financial needs. Sidecar savings is just one of the approaches we're currently testing, and we will continue to share research on this vital topic in the months and years ahead."
~ ENDS ~
Notes to editors
Read the full report here: How the UK saves: The effects of the second savings increase (PDF)
Definitions
Opt-out = members who leave within 30 days of enrolment.
Cessation = actively contributing members who stop contributing.
About Nest Insight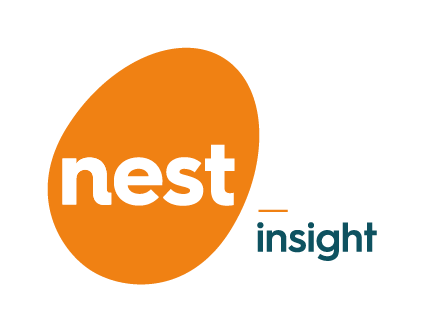 Nest Insight is a collaborative research unit set up by Nest Corporation to help understand and address the challenges facing Nest members and the new generation of defined contribution (DC) savers. For more information, visit nestinsight.org.uk or email insight@nestcorporation.org.uk
About Vanguard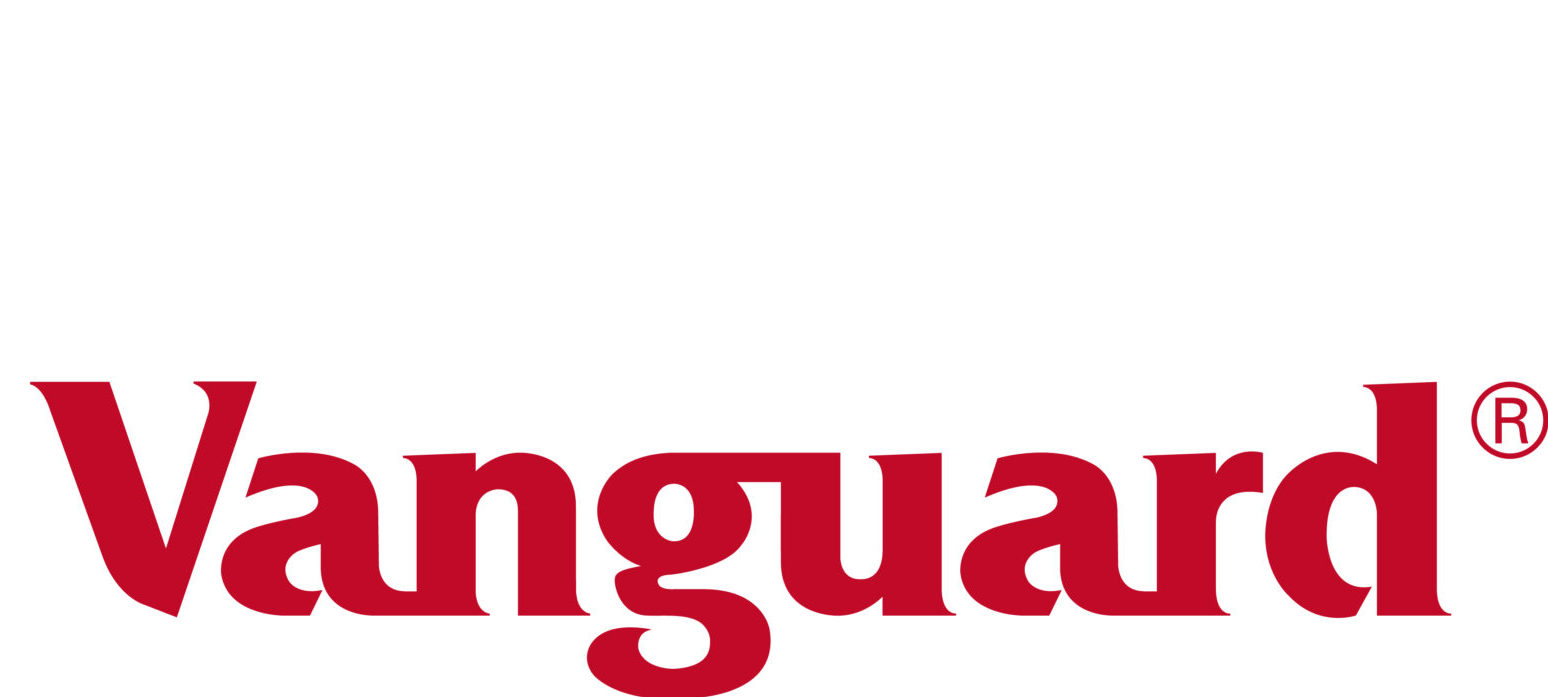 Vanguard Asset Management, Limited is authorised and regulated in the UK by the Financial Conduct Authority. It is a wholly owned subsidiary of The Vanguard Group Inc., a leading provider of high-value investment services, whose mission is to help clients achieve their goals by being one of the world's highest value providers of investment products and services. Since establishing the first indexed mutual fund in the U.S. in 1976, The Vanguard Group Inc., has grown into one of the world's largest and most respected investment management companies.  Globally, Vanguard manages $5.6 trillion on behalf of investors worldwide. (Source: Vanguard, as at June 31st, 2019). For more information, visit: global.vanguard.com