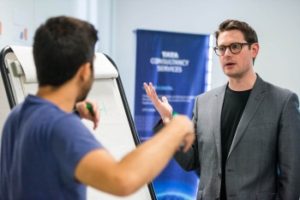 This year's Nest Insight event looked at how much people should be saving for retirement. It also focussed on how to encourage adequate savings among a new generation of savers. As part of this, we partnered with the innovation unit of Tata Consulting Services (TCS) to run an appathon challenge. The theme of this year's challenge was Gamifying the savings gap.
This brought together teams of software developers, academics and pensions experts to create ways of engaging pension savers on-screen.
The problem: Many people in defined contribution (DC) pension schemes are under-saving for retirement. But telling them how much they're under-saving can demotivate them, and potentially stop them saving completely. Also, it's hard to get people to take action when they've been introduced to saving through a default mechanism (auto enrolment).
The opportunity: There are a number of behavioural techniques proven to overcome inertia and get people saving more, including save more tomorrow (SMART) and future-self visualisation.
The challenge: However, many of these techniques are traditionally delivered through the workplace, by employers. Workers whose employers don't incentivise them to save more may therefore fall through the net. So how can we create digital tools that motivate individual DC pension savers, and reward them for  saving at the level that best suits their needs and expectations?
The 2016 Nest Insight appathon was delivered in partnership with the Innovation unit of TCS with additional support from the Open University.
TCS is a global leader in IT services, digital and business solutions. It partners with seven of the world's 10 largest insurers and over a hundred insurers globally. And its state-of-the-art innovation labs, global solution centres, and cutting edge solutions and technologies set its clients apart from their competitors. The TCS and Nest partnership has been in force since 2010. The appathon is an exciting opportunity to generate innovative solutions for existing and new savers.